Who We Really Are:
If you are curious and willing to try something new,
YOU are our people; who we are.
Some Info on our Leaders in Southeast Michigan
Lee Edwards
 is a Body-Mind Therapist, Certified InterPlay Leader, and a Life Practice Program Leader, and she leads in-person and online workshops in a range of creative and transformational topics. Lee's journey with InterPlay started in 2008, and she's been leading InterPlay since 2016, and became a Life Practice Program leader in 2020.  In addition to running her therapy practice, Lee loves using creative expression, drama, and movement for self-exploration and personal growth, as well as for the joy and fun of it, and she deeply appreciates how InterPlay weaves together many of these threads.
Lee lives in Traverse City, but is originally from Ann Arbor, and she started the Ann Arbor InterPlay community in 2016 because she felt that Ann Arbor was a natural fit for all that InterPlay offers, and she wanted to share the beauty of InterPlay with the hometown that had given her so much.  Lee has also been leading InterPlay across Michigan, helping to seed communities in other locations, including Traverse City, Charlevoix, Petoskey, and Detroit. If you'd like to have InterPlay come to your community, please reach out! (www.soulwayshealing.com)
Martha Stokely is a newly certified InterPlay leader in Ann Arbor exploring ways to bring more joy and connection into the world. 
After one decade of experience as a serious, classical musician, Martha pivoted to playing and composing music for English Country Dancing, an early indication that creative fun really matters to her. (It's so much more satisfying to play for people who aren't just sitting around.) Along the way she ended up working for over 20 years in the software industry as a catalyst for collaboration between software users and software developers. There, she facilitates work meetings online in ways that connect people to the creative power of play. She's always been lively and creative at work; InterPlay has helped her take it to the next level.

Gwynneth VanLaven is an artist and educator in Ann Arbor, Michigan. She uses InterPlay with values of inclusivity and accessibility. Her experiences with illnesses and a disabling accident heighten her awareness of resilience of all kinds. She leads and plays not as erasure but a dance deeply woven in challenge and delight.

VanLaven's existent art practice responds to ills like ableism, mental health stigma, body disparagement, and othering. Gwynneth holds special care for body autonomy and body attentiveness, so safety in play can be both deliciously awkward and embodying. InterPlay will be a powerful tool toward participants' growth and the artful forging of community― with humor, curiosity, and joy. (www.vanlaven.art)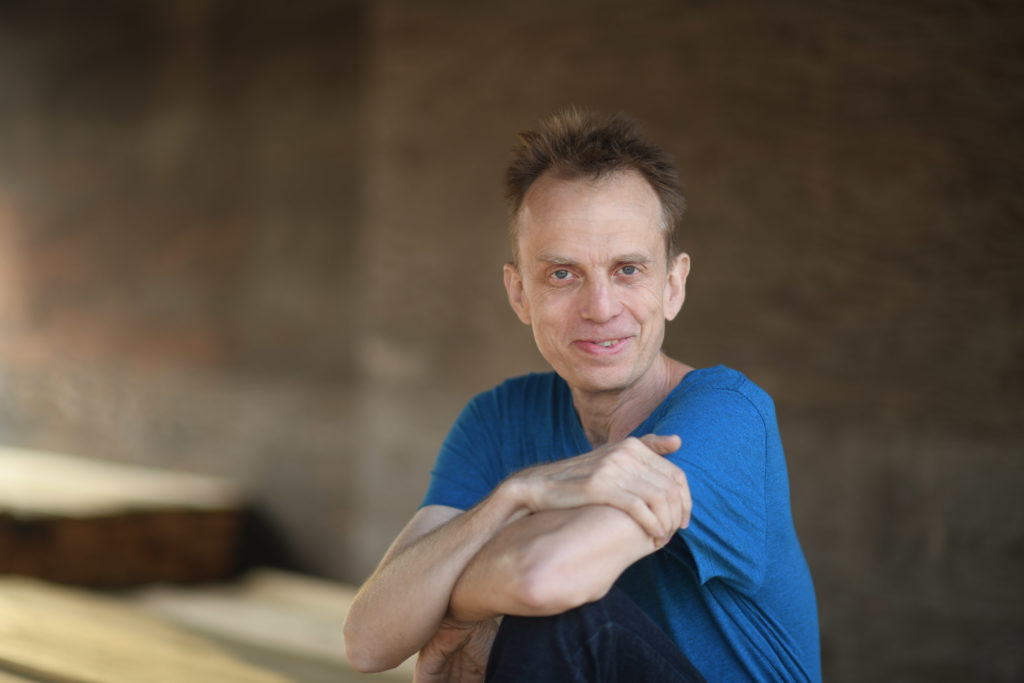 Robert "The Buffalo" Hughes is an artist living in Ann Arbor, Michigan, and uses He/They pronouns.  Rob is one of the leaders in training and started the leader training program in January 2021.  As a creative Rob has many interests, including performance art, interactive art, video art, pen and ink drawing, linoleum cuts, and other endeavors.  Rob has a playful and inclusive spirit and enjoys connecting with people through InterPlay.



Megan Sims, owner and operator of Me-Again Dance Wellness, has been teaching Dance, Nia, Gentle Nia and other classes/workshops/retreats to a wide range of folks: Women, Kids, Teens, Adults, Dancers, Elders, those with Alzeimer's, Parkinson's and more for over 20 years. Sharing dance-medicine in a safe and loving environment is her mission in life! Expect to leave her class with a warm glow, feeling relaxed and revitalized.

With a BFA from the UM Dance department, an MA in Psychology/Counseling from Goddard College, and a Black belt certification from the Nia Technique, Megan integrates all this into a formula for wholeness. She thrives on creatively expanding on the Nia guiding principle–The joy of movement– to use dance as a healing tool for folks of all shapes, sizes, colors, and walks of life. You can learn more about Megan's offerings at meagaindance.com, or contact her at megansims600@gmail.com. Come dance and feel truly alive, restored, and present in your body!
The wild, whimsical wisdom of InterPlay brought out Megan's innercreator, a return to her true essence and divine yet earthy wholeness. Therefore, Megan morphed naturally into Me-Again for InterPlay and all other creative ventures. As an InterPlay leader in training, Me-Again strives to do for others what InterPlay does for her: easefully draw out our innate connections to Body, Self, Others, and All-That-Is with curiosity that leads to discovery. Oh, and also have fun!
---
The Process:  Becoming a Leader


It is an involved and also rewarding process to become a certified InterPlay leader (CL). From the first teachings to the "Leaders Circle" may take several years of study. We have found that study to involve introspective curiosity and a willingness to collaborate and connect in an affirming light with others. Some of the Certified leaders listed here went on to become teachers of new InterPlayers. For all the leaders, bringing InterPlay to groups is always a fun and daring surprise. There is no one way to "Do InterPlay," and it can't be "Done wrong." That means a lot of surprises for participants as well as leaders. It is a thrill, and we thank you for the opportunity to engage it!
From the InterPlay.org website, some of the benefits of (Evidence Based) InterPlay participation and Leadership:
creates strong, enduring, healthy connections between us

allows us room to claim our own gifts and to appreciate the similarities and differences of others

helps us "disarm"—to be less guarded and more open

creates ease, joy and fun in our lives